Daily Schedule
---
6.00am
Temple Opens starts with darshan
7.30am to 7.45am
Balbhog Sakalchi Aarti (Morning Aarti or Prayer)
7:45am to 12:30pm
Darshan
12.30pm to 1:00pm
Naivedyam [Rajbhog] And Noon Aarti
1.00pm to 4:00pm
Mukha Darshan
7.00pm to 7.20pm
Naivedyam
7.20pm to 7.45pm
Aarti And Prasadam
9.45pm to 10:00 pm
Naivedyam And Shayan Aarti
Daily Panchang
---
Panchang Info
Available Soon
Navratri Events
---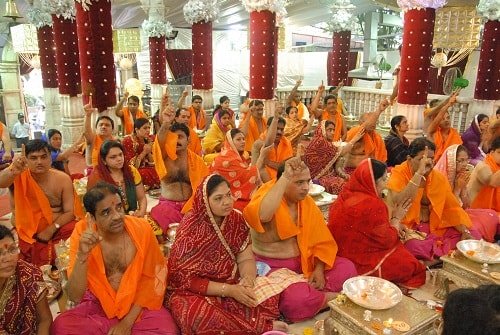 Shrisukta Abhishek
Shri Sukta Abhishek are the rituals in which Godess Laxmi & Ganesh are worshiped with vedic mantras (ganpati atharvashirsha & shri suktam). The godess is served with sixteen upacharas - panchamuratas, kumkum, fruits, dhoop etc. After that devotees are given prasad & a picture of Mahalaxmi Mata in the form of Prasad. This is the form of seva under which we serve the godess during the auspicious nine days of Navratri.
---
Havan Booking
Its a religious Hindu ritual and a form of sacrifice performed during Navratri. As per the Hindu belief the Ved mantras are nurtured. The godess is served in the form of "yadnya" and various types of poojas are offered like Avahanam, Abhishekam, Archanam. The things which we want to offer at her feet are given to the enlighted fire, the "yadnya". It is believed that those things were directly accepted by the divine universal energy as those are put in the Yadnya / Havan. In the havan we offer elements which also serve in clearing the atmosphere, there by bringing positive energy in us, and making a connection with the cosmic energy.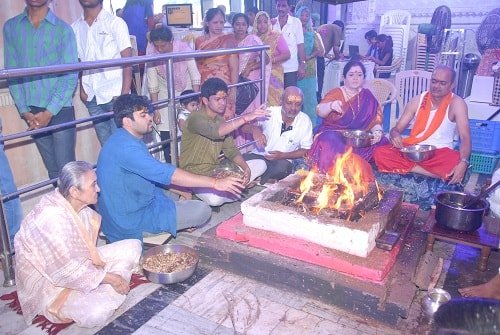 ---
Prasad Booking
In Navratri Puja, fasts and celebration are incomplete without offering Prasad. All ten days we offer bundi Prasad to all devotees visiting to temple. We also offer Prasad like dry fruits / Sweets / fruits. Devotes can contribute by bringing the actual Prasad or giving donation for the prasadam.
चांगल्या सवई शक्तिचा संचय करतात तर वाईट सवई शक्तिचे अधःपतन करतात.

- जेम्स अ‍ॅलन